As you can see, our rockin' space pilot goblin is fixing up her ship with a part she's printed out which she found on a MediaGoblin site using our new 3d model support!
Things are starting to get back to normal around here. After the tremendous outpouring of support you showed us during the fundraising campaign, we were a bit winded. There are still stickers and goodies to mail out (we haven't forgotten!) but we also found time to push out one final 2012 release. A few things had been teetering on the edge of finished and a few things needed to get smoothed out to pave the way for a fantastic 2013.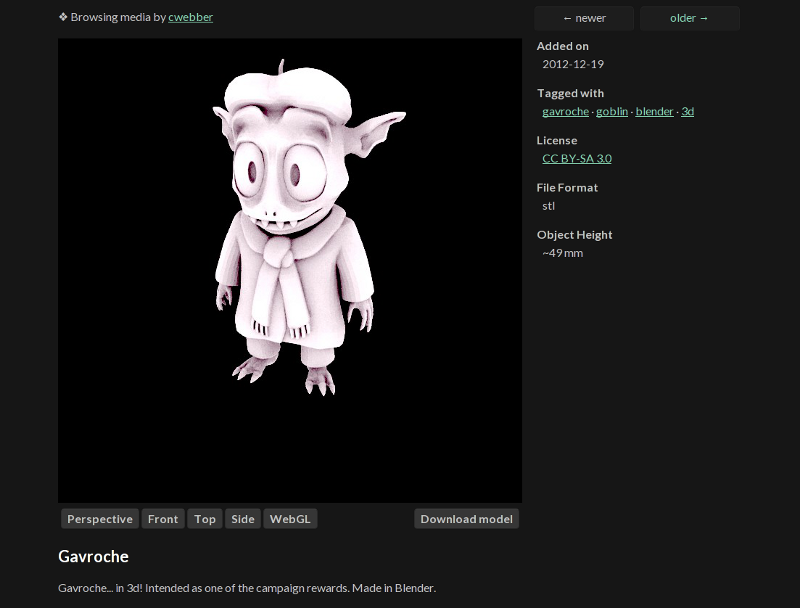 We've blogged about this, we've collared people at holiday parties, we've done everything but make a Gangnam Style parody video about it... but in case you haven't heard, you can now upload 3d models to MediaGoblin, whoo! This means you can build your own free-as-in-freedom Thingiverse replacement and start printing out objects. We support the sharing of STL and OBJ files. MediaGoblin can also call on Blender to create nice image previews during upload. Or if you prefer, you can use JavaScript to display live 3d previews in WebGL-enabled browsers (we use the thingiview.js library to do this).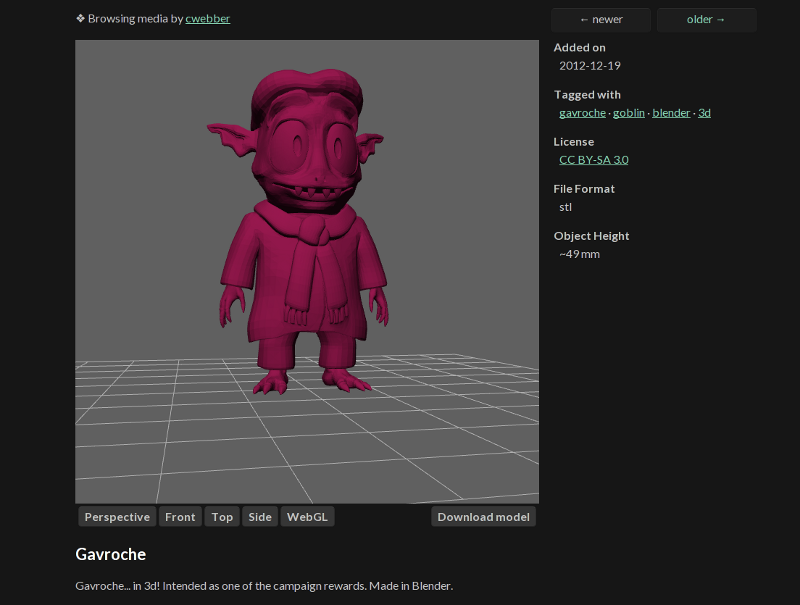 Thanks again to LulzBot for sponsoring this exciting advancement in MediaGoblin's offerings!
We really want 2013 to be the year of the MediaGoblin plugin. We made it possible for plugins to include their own models. We also have a working API, which means there is a nice standard way for you to hook your extensions to MediaGoblin. You can also go the other way and use webhooks or callbacks to make it easier to connect MediaGoblin into other applications. This makes it possible to start on applications for submitting media from all different types of devices. We've enabled OAuth support so that MediaGoblin will be able to securely talk to other sources -- like phones or other applications -- whatever you like. Want to learn more? Joar has built some cool demo applications you can check out: automgtic, an automatic media uploader for your desktop and OMGMG, an example of a web application hooking up to the API.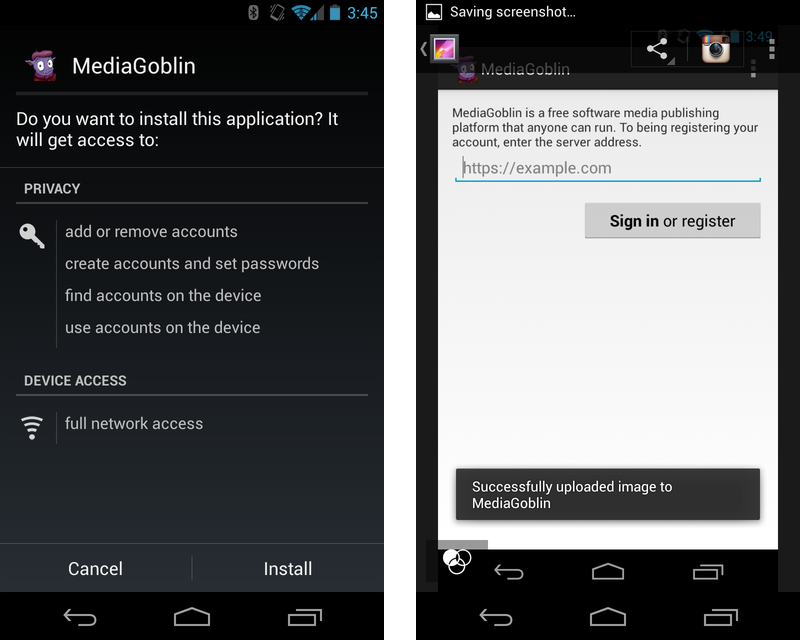 Speaking of phones, there is now an Android client in the works! Call us, maybe?
You can see above an example of an image uploaded to a MediaGoblin instance from an Android phone. Pretty cool, huh?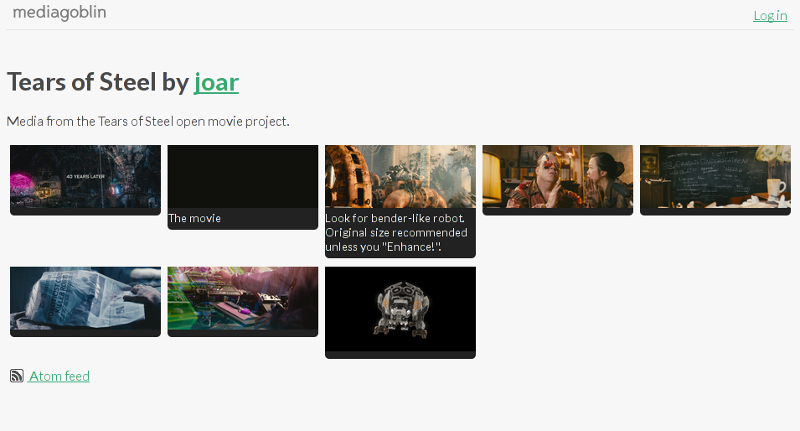 We've also continued making things nicer for the user at home. It's now easier than ever to organize your MediaGoblin account. We've built in collections, so you can group media you like into your own curated galleries.
The thumbnail display is now a bit cleaner. We also tidied up the HTML output in general by optimizing the way whitespace gets trimmed.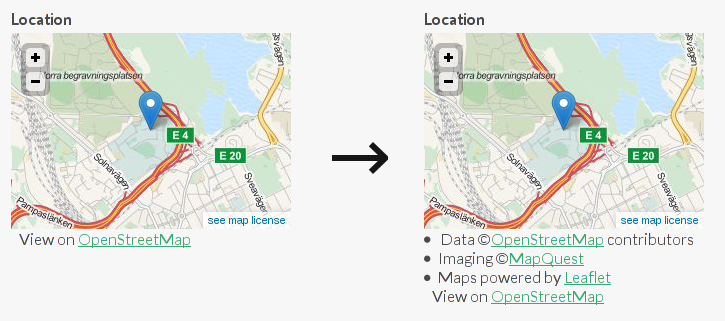 Geolocation and OpenStreetMap support is now on by default. We've even tweaked the OpenStreetMap license menu to make it more intuitive.
That's the big features of this release! You can also read more in our release notes.
Thank you to everyone who helped us write code, raise money, test features, create swag or offered opinions! We are so glad that we got a chance to work with you in 2012 and are very much looking forward to the challenges and achievements that 2013 will bring. Thanks to MediaGoblin contributors who worked on this release: Aaron Williamson, Aeva Ntsc, Christopher Allan Webber, Duncan Paterson, Deb Nicholson, Elrond of Samba TNG, Jef van Schendel, Joar Wandborg, Emily O'Leary, Nathan Yergler, Sebastian Spaeth, Kuno Woudt, and Will Kahn-Greene! And special thanks to Morgan Lemmer-Webber for doing a lot of work to help us coordinate rewards stuff and the Free Software Foundation for hosting and promoting our fundraising campaign! (By the way... they're currently running a fundraising campaign of their own... please donate!)
Want to join the party in 2013? We'd love to have you! Visit our IRC channel, #mediagoblin on freenode.net! If you want regular updates, join the mailing list or email us your thoughts and questions at press@mediagoblin.org
PS: We're still working on sending out the fundraising rewards. Take a look at this first test of the 3d Gavroche figurine printed on Aeva's LulzBot!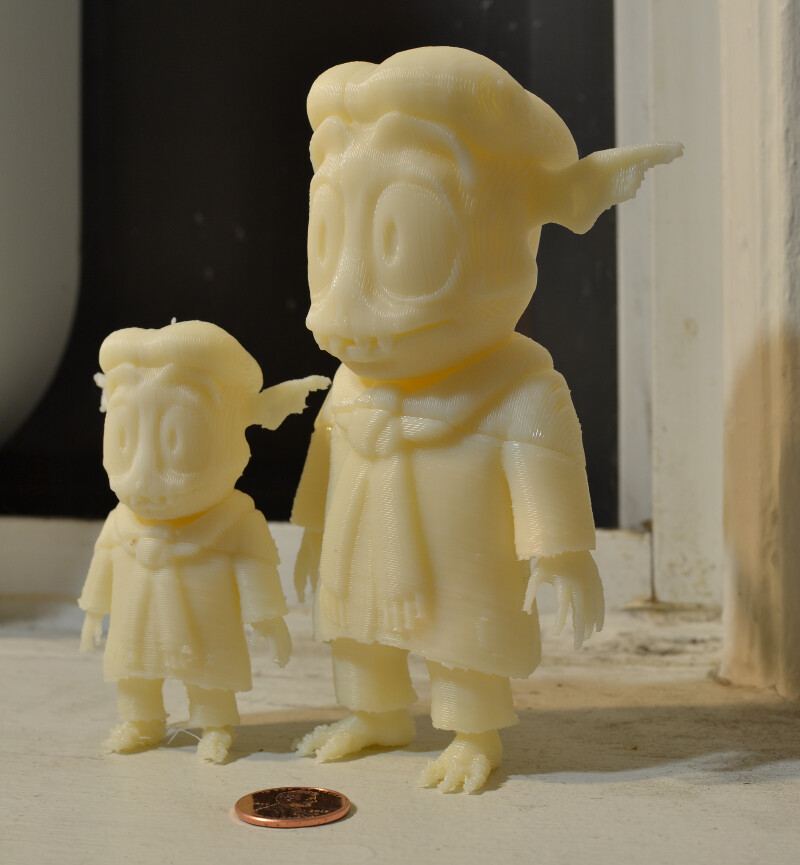 "Media Goblins" photo CC BY-SA 3.0 by Aeva Ntsc... the actual .blend files and STLs of Gavroche also CC BY-SA 3.0 and will be released after the rewards go out. ;)